Testimonials
---
"Just a quick email to say thanks for the amazing work you did with our Ramingining students. I didn't know my preschool kids had such beautiful voices. Your positivity and professionalism shines through and really rubs off on the kids." Louise Cooke, Preschool Teacher, Ramingining CEC
---
"I was privileged to watch Pete and Kerrie work their magic over 2 weeks with groups of students from 5 years of age to 15 years of age from remote Aboriginal communities. Using quiet encouragement and affirmation that the students could do it, Kerrie and Pete helped the students move from reluctance and embarrassment to being proud performers. The use of music to explicitly reinforce literacy was of particular interest and I still have the lyrics from the books the students were reading in my head. Creating their own songs allowed students who may not necessarily be successful academically to be proud of their work. Watching normally silent students turn into solo performers was a revelation. The value placed on the students' stories and the respect for their culture was so important. Pete and Kerrie share their creativity and talent so generously to help others experience creativity and musicality" Kathryn Choules, Lecturer, Faculty of Education, Deakin University, Warrnambool Campus
---
"I have to tell you what an influence you have had on these children, your music is continually played and sung throughout the school. We often hear the children singing 'their' school/class song around the community.  You are doing a wonderful job."  Christine Brooks, Carey Grammer School, from her time at Robinson River School.
---
"Stamp Music have been a significant stimulus for engagement between Bulla School and its community.  Pete, Kerrie and their family have been coming here for many years and each time they have motivated the students to create songs that promote resilience, attendance at school, learning behaviours, being friendly, persistence and enjoying education.  These are then presented to the community at "night school" where everyone is invited to attend.  The parents, carers and community thoroughly appreciate and value the performances by their students.  A highlight is the viewing of videos showing the conception of their work.  There is now a solid library of digital performances acquired from over the years and these demonstrate the progress that has been made."   Sue Hearnden, Principal, Bulla Camp School.
---
"Thanks so much for organising and running your Stamp Music programme at Robe Primary School. Our students learnt so much from the experience and have been particularly proud of their song writing ability. Pete, you have inspired some of our country kids to persisit with music, despite limited opportunities in our town for lessons etc. They have spoken of how 'cool' it is to just sit around at home and try to play their guitar or think of lyrics. This is a big win." Nicole Slater, Teacher, Robe Primary School
---
"….people like you guys make such a difference to remote schools and kids…" Jenny Sherrington, Principal, Timber Creek School
---
"The exercise gave them some power and sense of ownership in their learning. It was fantastic to hear them singing the song when they came back from holidays just proves how much of an impression it had." Lance Nesbitt, Principal, Oodnadatta Aboriginal School
---
"Thank you, to you, the facilitator and your assistants, for developing activities that were creative, practical, fun and informative with an educative outcome." John Slattery, Chairman, Croc Festival
---
"The increase in self esteem that has resulted from learning that they could write a song, perform in a professional recording studio, perform live or make a video can not be measured. What we do know is that you have been involved in changing lives." Kathy Mickan, Youth Development Officer, City of Mitcham
---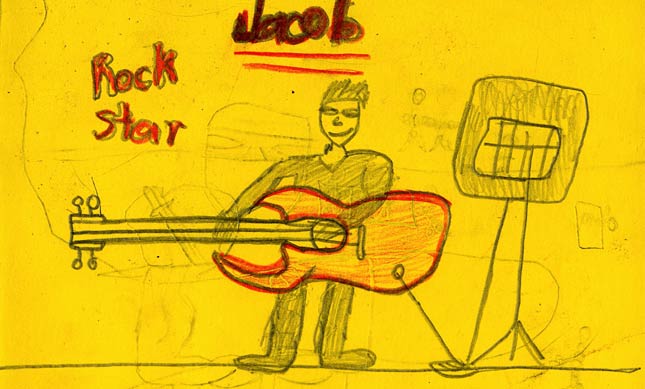 Photograph title and credits.
---
"I was amazed at how 'switched on' they were throughout the whole session. They absolutely loved it!" Sue Farrant, Reception Teacher, Reynella South School
---
"We are most grateful to have performers who will travel to our remote location and identify so quickly with the special needs of our children." Neville King, Principal, Ernabella Aboriginal School
---
"Both Kerrie and Pete have provided an intense literacy learning experience embedded within the song writing process." Matthew Gray, Teacher, Oodnadatta Aboriginal School
---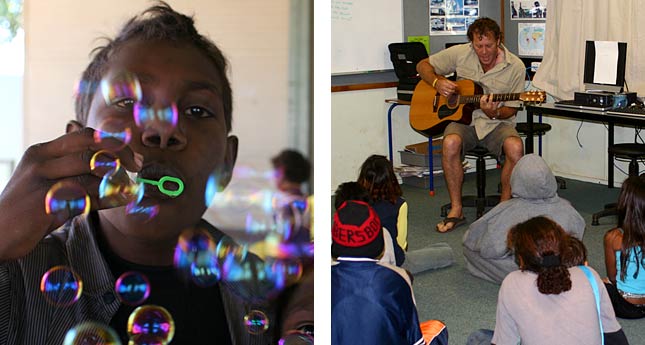 Photograph title and credits.
---
"In my opinion this session was of great benefit to all who attended and should prove a source of inspiration to aspiring musicians." Peter Laslett, Teacher/Arts Co-Ordinator, Roxby Downs Area School
---
"Your knowledge and obvious teaching skills were invaluable to the participants of the workshop." Alistair Cranney, Southern Music Alliance Project Officer, City of Onkaparinga Council Youth Services
---
"The best thing is the way they worked with the kids using strategies to get even the shy children actively participating." Teacher, Oodnadatta Aboriginal School
---
"It's pleasing that you have been available to help remote schools like Mintabie out. It is not often that we get people of your calibre here to work with our students." John Clements, Principal, Mintabie Area School
---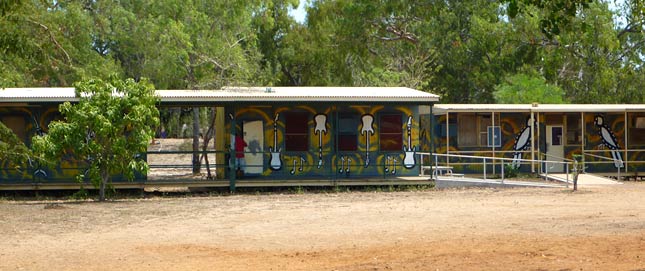 Photograph title and credits.
---
"Stamp have perfected a technique of pinpointing other people's imagination and kicking it into overdrive, enabling us to accomplish things musically which most of us never thought we ever would." Belinda Southerland, Kangaroo Inn Area School
---
"There have been glowing reports about your skills at working with some very difficult young people and admiration for your ability to get a song out of any group of young people in just 90 minutes." Kathy Mickan, Youth Development Officer, City of Mitcham
---